Part 1: Search & Deliver, Simon Brown 'Tearing up the rules in design'
Simon Brown the founder of &&& Creative kick-started this months Creative Corner with the statement that 'Good idea's are just not enough'. Placing emphasis that we as designers should understand the intricacies of how and when to strategically sell our ideas'. Demonstrating there is room for designers to tear up the commissioning process by injecting their own work. He showcased a series of un-commissioned projects for the customer magazine Cilichili for Vodafone. Taking us through a series of cover designs ranging from; the sex issue that had a neon beaver on the cover to the interiors issue where &&& shaved a rug. Confirming that as creatives we should have a purpose when breaking the rules.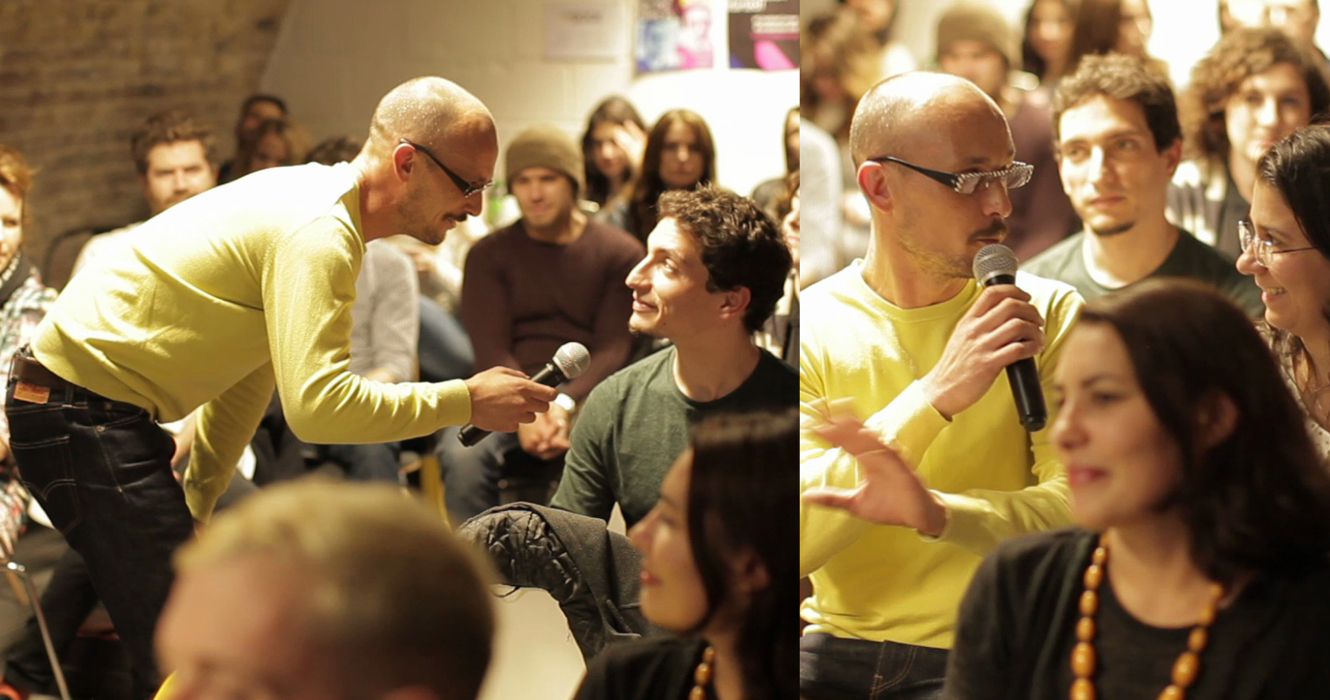 Regularly invite yourself to unexpected places
Simon maintains that 'regularly inviting yourself to unexpected places' is a great technique to encourage you to look at a challenge from a unique perspective. He demonstrated this by inviting the audience to participate in the launch of 'Lazy_Blog'. His latest initiative to drive funding for a one-word blogging platform, launched with the word "Cock-a-doodle-do".
Join in the fun Follow @Lazy_Blog
Since its launch it has been incorporated the words provided by the audience at Creative Corner. If you would like to get involved contact &&& Creative.
https://twitter.com/thedocklon/status/659813219314348032 https://twitter.com/z_gaal/status/659831444668305408
Skip to the inspiration that will help you 'Tear up the rules in design'
The links below will take you to the relevant part of the Creative Corner Uncut video.
Creative Corner three part video series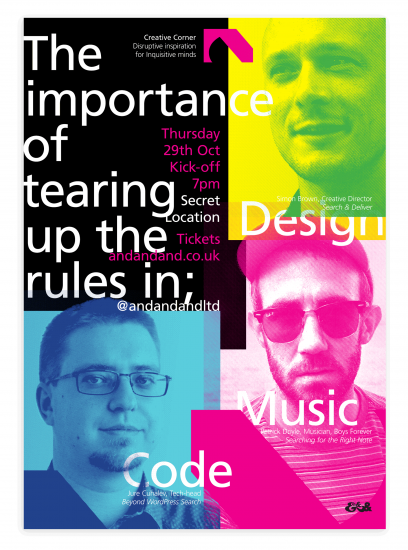 'Tearing up the rules in design, code and music' is available to watch in a three part series that takes you straight to the heart of the inspiration.
Part1: Search and Deliver by Simon Brown
Part 2: Beyond WordPress Search by Jure Cuhalev
Part 3: Searching for the Right Note by Patrick Doyle