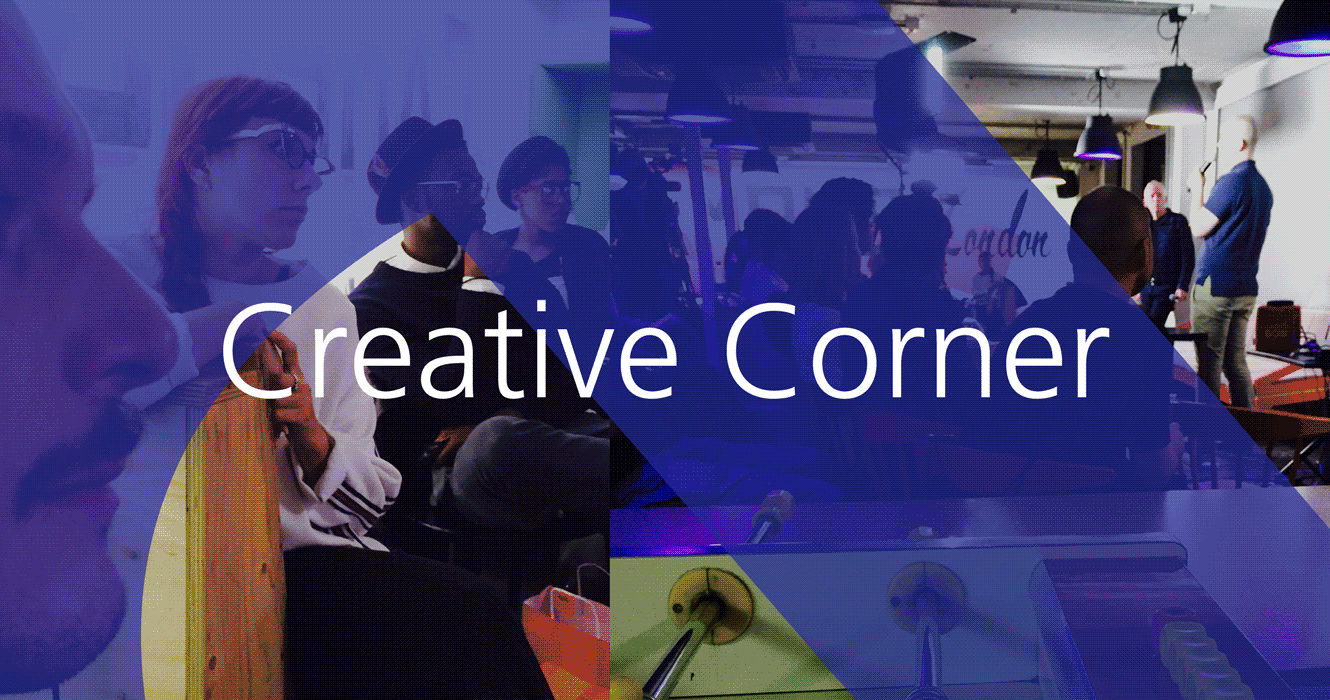 Creative Corner™ Disruptive inspiration on a monthly basis
We are proud to announce the launch of Creative Corner, a free monthly meet-up that's aimed to open dialogue in the design community and inspire creativity. Hosted as an informal presentation platform in the East End of London, by &&& Creative. 
The idea is simple! Each month you will hear from talented young creatives to industry figureheads revealing the need-to-knows about the changing landscape of the creative industry. Creative Corners ambition is to inspire and educate creative's through shared experiences revealing the changing landscape of our creative industry, what it's really like and what you need to succeed. Making it the meet-up where you will be inspired, develop collaborative partnerships, build your knowledge, be part of the creative community. Most importantly have fun.
Creative Corner will take place on the last Thursday of every month, together we aim to inspire you throughout the year. Stay posted online, on Twitter or signup to our mailing list below as we will be announcing the keynote speaker at the beginning of each month.
Interested in teaming up with an industry defining event
or join the conversation
Follow @andandandltd Tweet #CreativeCorner
We look forward to meeting you at the next Creative Corner very soon. 
Creative Corner Highlights
"For me the events have been really inspiring. The quality of speakers thus far have been top notch and not only are they doing the creative things that we'd all like to be doing they are sharing their wisdom so that we can do it too. The clarity with which these professionals share their ideas make dreams look possible, now I know that professionals make everything look easy but they are giving tangible advice/tools and that's worth its weight in gold as far as I'm concerned"

Sean Errey
#CreativeCorner highlights. What creative #workspaces need to be successful @TheCommonE2 http://t.co/0GqtW77PRN pic.twitter.com/1YLnntHdvy

— &&& Creative (@andandandltd) August 12, 2015
Creative Corner Origins
Originally Creative Corner was conceived as an internal initiative by the design heads at &&& Creative. However we thought it was too good to keep to ourselves. From our experience, being inspired is one of the best things in life. Together we can bring the diversity of the creative community together in one informal inspirational meet-up where we can openly talk, network, collaborate and work. Underpinned by our ethos of collaboration and sharing, aimed at; designers, students, start-ups, entrepreneurs and industry influencers. 
Come along, get involved, together lets' get the design community talking.